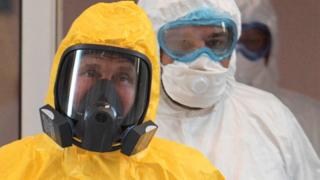 Russian President Vladimir Putin has postponed a vote on constitutional change that would allow him to stay in power, because of coronavirus concerns.
He said the public vote – previously due to be held on 22 April – would be delayed until a "later date".
The proposed changes include scrapping a ban on allowing Mr Putin to run for office again.
The changes have already been approved by parliament and Russia's constitutional court.
They would give Mr Putin – who is serving his fourth presidential term and has dominated Russian politics for two decades – the right to serve two more consecutive terms.
On Wednesday Russia confirmed 163 new cases, bringing its total to 658. So far no-one has died from the virus there, officials say.
"The absolute priority for us is the health, life and safety of people. Therefore I believe that the vote should be postponed until a later date," Mr Putin said.
Mr Putin also announced that Russians would not work next week "to slow the speed" of the infection.
But he warned that it was impossible to prevent any spread of the virus at all in Russia because of the country's size.
The Russian economy was also under serious pressure because of the virus, Mr Putin said.
During their week off, employees would continue to be paid and key services would continue, he said.
He also announced extended welfare support, including for families with children and those who had lost jobs.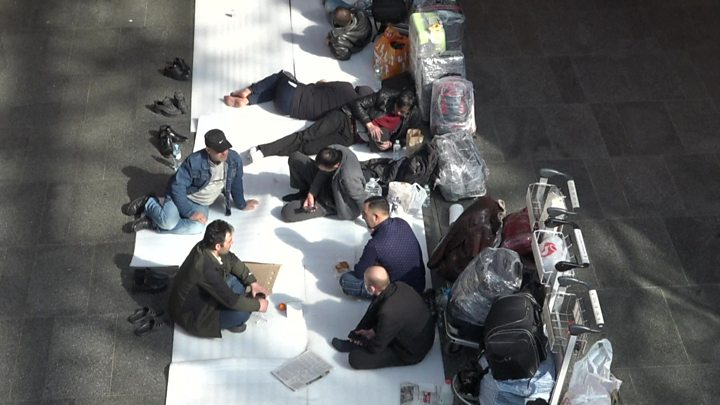 Russia has already taken measures such as a two-week quarantine for people arriving from abroad, school closures and warning for elderly people in Moscow to self-isolate.
It has also stopped cultural and sporting events and closed gyms, cinemas and nightclubs, although cafes and restaurants have been allowed to stay open.
But the country has so far stopped short of imposing the kind of lockdown seen in some European countries.
What is the situation across Europe?
There have been more than 435,000 confirmed cases worldwide. Europe is now the centre of the global outbreak.
Spain's death toll has surpassed the official figure from China, becoming the second highest in the world. Deaths have risen by 738 in just 24 hours to a total of 3,434
Italyhas increased punishments for breaking virus control measures, including fines of thousands of euros and five-year prison terms for anyone who tests positive and breaks their quarantine. Nearly 70,000 people have tested positive for the illness there
On Tuesday,Francebecame the fifth country to record more than 1,000 coronavirus deaths. Jerome Salomon, the country's top health official, has warned that the number could be even higher, as the 1,100 confirmed total only counts people who died in hospitals. Scientific advisers have called for the lockdown there to be extended from 15 days to six weeks – something health officials have not ruled out
And inthe UK, heir to the throne Prince Charles has tested positive after displaying "mild" symptoms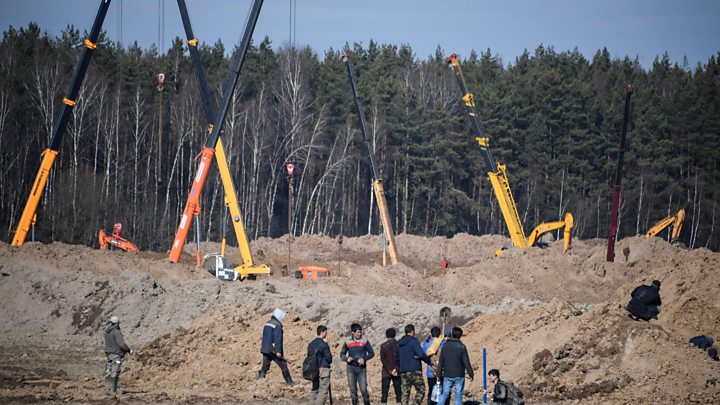 ---
How have you been affected by the issues relating to coronavirus? Share your experiences by emailinghaveyoursay@bbc.co.uk.
Please include a contact number if you are willing to speak to a BBC journalist. You can also contact us in the following ways:
Related posts
Subscribe Now
* You will receive the latest news and updates from Business Magazine!
Trump extends virus restrictions beyond Easter
Image copyright Getty Images Image caption President Trump: "Nothing would be worse than declaring victory before victory is won" US President Donald Trump has said coronavirus restrictions such as social distancing will be extended across the country until at least 30 April."The highest point of the death rate is likely to hit in two weeks,"…
Liverpool are doing something Manchester United never could – Liverpool Echo
The Reds have efficiently gone about their business in the Premier League this term
Our Instagram
Instagram has returned invalid data.