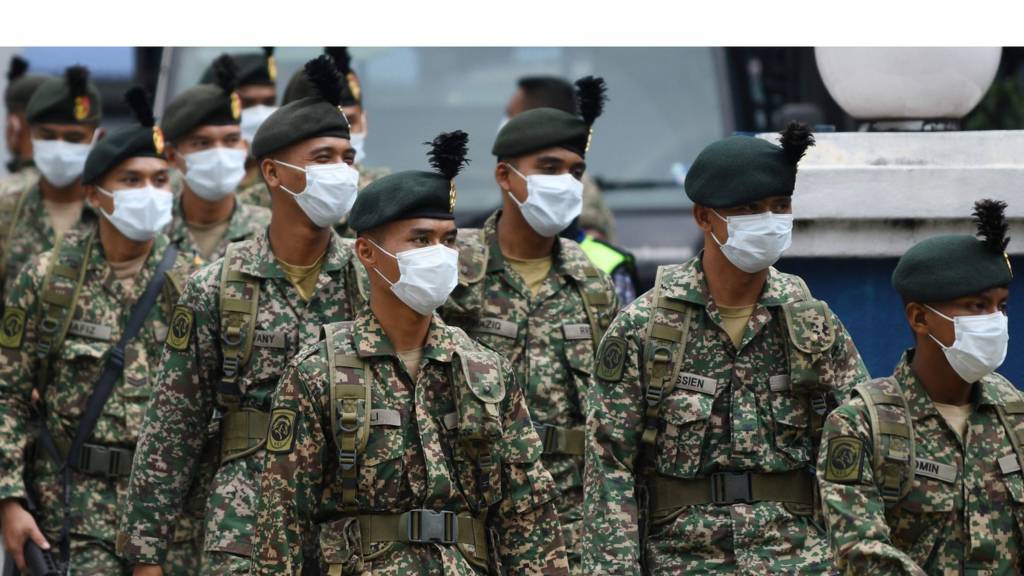 Related Video and Audio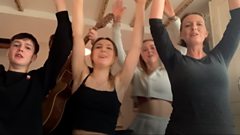 Video 1 minute 48 seconds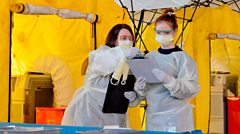 Video 1 minute 12 seconds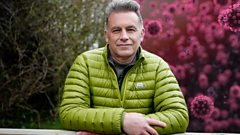 Video 2 minutes 22 seconds
RTL
Got a TV Licence?
You need one to watch live TV on any channel or device, and BBC programmes on iPlayer. It's the law.
Live Reporting
By Joshua Cheetham, George Bowden, Paul Seddon and Sean Fanning
All times stated are UK
Hunt: Support for self-employed will come

Sky News

Mr Hunt describes the UK government's economic response to the coronavirus as one of the biggest in the Western world.

"It is an unprecedented and very, very important package," he says. The UK government has said it will pay up to 80% of the wages of company employees affected by the downturn caused by the virus.

Mr Hunt adds that he is sure Chancellor Rishi Sunak will respond to criticism about the lack of support for self-employed workers.

Meanwhile Carolyn Fairbairn – director general of the CBI business group – says the coronavirus outbreak was not at first an economic issue and that the UK's economy was strong before it began.

She describes an "extraordinary stepping up" among businesses that are moving production to make things like alcohol hand sanitiser.

Millions stay at home in India curfew

Hundreds of millions of people in India have stayed indoors in response to the government's call for a lockdown to combat the transmission of coronavirus.

The 14-hour curfew saw cities across India deserted.

Domestic flights were halted and Indian railways have cancelled all passenger services till the end of the month, from Monday.

Prime Minister Narendra Modi said the lockdown – not mandatory – would strengthen the fight against Covid-19. India has registered 341 cases, with five deaths.

ReutersCopyright: Reuters

All quiet at a railway terminus in Mumbai

Image caption: All quiet at a railway terminus in Mumbai

Hunt: NHS funding is a 'different debate' to virus

Sky News

Mr Hunt says he fought hard for an increase in funding for the UK's National Health Service as health secretary but he adds that questions over funding are a "different debate" to how to halt the spread of the coronavirus.

He says that "what we do today massively matters and if we want to have any chance at all stopping the NHS falling over then we have to obey to the letter the advice about keeping apart" and away from elderly relatives.

Corbyn calls for UK to increase virus testing

Sky News

Speaking on Sky News, Labour leader Jeremy Corbyn has urged the UK government to increase coronavirus testing, calling the current testing rate "far too low".

Mr Corbyn, who is stepping down from his role in two weeks, says the country has been made "vulnerable" to the effects of a pandemic by "10 years of austerity".

He also expresses concern for self-employed people in vulnerable groups, who are today being asked to stay at home for 12 weeks – he says this period will be "very, very difficult" for them.

He says he thinks the UK Parliament should stay in session so that MPs can hold ministers to account, but says party managers have agreed that the number of MPs in the chamber should be "greatly reduced".

Ex-UK health secretary: It is all to play for

Sky News

Sky NewsCopyright: Sky News

Former UK health secretary Jeremy Hunt tells Sky News' Sophy Ridge it is "all to play for" in terms of tackling the coronavirus in the UK.

He says those not obeying social distancing rules are putting others at risk. "It is deeply worrying," he adds of the situation.

"Now when people see that doctors in other countries have lost their lives on the frontline of the coronavirus… I think we need to reflect that we actually owe it to them to do everything we can to slow the spread of the virus."

Welcome to our live coverage of the coronavirus pandemic

As you join us, here's a recap of the main points this Sunday.

Lombardy – the worst-hit region in the worst-hit country, Italy – is tightening the rules on what people can and cannot do. Sport and physical activity – even on your own – is forbidden. Even using vending machines is out. Italy suffered its highest daily rise in deaths on Saturday – 793.

Australia's two biggest cities, Sydney and Melbourne, along with Canberra, will shut down non-essential services in the next 48 hours as coronavirus cases rise rapidly in the country. Australia's Prime Minister says the sight of hundreds of people on Sydney's famous Bondi beach should be a "wake-up call" to take advice on social distancing seriously.

India has been observing a 14-hour long curfew to test the country's ability to fight the virus. One of the main suburban lines in Mumbai has been shut down.

The number of cases globally has passed 300,000 with more than 13,000 deaths.

Boris Johnson made a plea on Saturday night for UK citizens not to visit loved ones on Mother's Day. Join a "heroic and collective national effort", he said, to ensure social distancing.

Trails in Snowdonia National Park could be closed after the authorities complained of "unprecedented scenes" with crowds flouting official advice on social distancing.
Related posts
Subscribe Now
* You will receive the latest news and updates from Business Magazine!
Italy's 'time to smile' as travel allowed again
Image copyright Getty Images Image caption Italians are now allowed to travel inside the country again Italian Prime Minister Giuseppe Conte offered a hopeful message as the country moved to its final stage in easing lockdown restrictions."We deserve to smile, to be cheerful, after weeks of great sacrifice," he said on Wednesday.He added that now…
The Last of Us Part 2 – Official Cinematic Trailer – IGN
13.5M Want to watch this again later? Sign in to add this video to a playlist. Sign in Like this video? Sign in to make your opinion count. Sign in Don't like this video? Sign in to make your opinion count. Sign in Published on Jun 3, 2020Watch the new extended cinematic trailer for The…
Our Instagram
Instagram has returned invalid data.