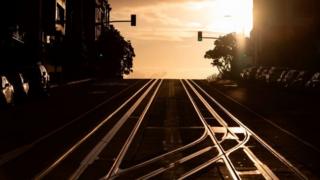 California has issued a "stay at home" order to residents as it tries to stem the march of the coronavirus across the most populous US state.
Governor Gavin Newsom told Californians they should only leave their homes when necessary during the pandemic.
He earlier estimated more than half of the 40 million people in his state would contract Covid-19 in just the next two months.
The virus has so far claimed 200 lives in the US and infected 13,678 people.
Governor Newsom said: "This is a moment we need to make tough decisions. We need to recognise reality."
His order will allow residents to leave their homes to buy groceries or medicine, or walk a dog or take exercise, but seeks to limit public interactions.
About half of the state's population are already subject to similar stringent measures, including the city of San Francisco.
The Democratic governor said parts of the state were seeing infection rates double every four days.
He issued a dire prediction in a letter to President Donald Trump on Wednesday, appealing for urgent federal help.
"We project that roughly 56 percent of our population – 25.5 million people – will be infected with the virus over an eight week period," Governor Newsom wrote.
So far, California has recorded fewer than 1,000 cases of the virus and 19 deaths, according to the Los Angeles Times.
Related posts
Subscribe Now
* You will receive the latest news and updates from Business Magazine!
Climate change is driving widespread forest death and creating shorter, younger trees – CNBC
The Amazon rainforest, which has been decimated by cattle ranching and wildfires, is the biggest deforestation front in the world with more than 20% of the forest already destroyed.
The commander who laughed and joked Wednesday does not lack courage – Ars Technica
Doug Hurley spent 20 years at NASA and found his family there. Now, he risks it all.
Our Instagram
Instagram has returned invalid data.